New Durham, New Hampshire
July 15-19, 2023
For children age 7 and older
Registration is now closed, however limited space is still available for NOAH Family Summer Camp.
Contact info@albinism.org for more details!
NOAH Family Camp: Fun & Freedom
Create amazing memories with a classic camping experience in New Hampshire, designed for children with albinism and their siblings (seven and older).
NOAH Family Camp 2023 Information
Jump to:

---
What Do You Do At Camp?
NOAH Camp is an opportunity for children with albinism and their families to share a fun-filled outdoor vacation with others like them. The schedule includes all camp activities, as well as youth only times (don't worry, we have fun planned for grown-ups too!). Planned activities may include:
adaptive sports
archery
bingo
boating
campfires & s'mores
closing party
craft time
field games
group flags
hiking
lake swimming
low ropes course
movie nights
scavenger hunt
sponge balls
tie dye t-shirts
trivia game
volleyball
water games
---
Camp Fun for Grown-Ups!
While the kids are busy with their agemates, we've scheduled fun adult only activity time too. Planned activities may include:
Archery
Boating
Book and Movie discussion
Paint party
Ropes course
Trivia Game
Wool felting
Yoga
Zen coloring
Albinism Programming:
While the camp is primarily designed for families to enjoy camp activities with one another, camp will have some albinism related programming. Grouped by age, campers will attend one informational session or discussion group each full day of camp. Parents will also have group discussion options plus plenty of time for networking and informal conversation to share information and support.
---
2023 Family Camp Fees
$200 Discount for Campers with Albinism Ages 16 and Under!*
All attendees, regardless of age, are required to pay a registration fee which covers the facility rental, lodging, food, activities, supplies, arts & crafts. A parent or guardian is required to attend with youth campers.
Adults & Children…..$380 per person
*Thanks to a Delta Gamma Foundation Grant, we are pleased to offer a discounted registration fee to a limited number of campers with albinism ages 16 and under! To take advantage of this discounted registration, enter code YOUTHPWA23 at checkout. If you have more than one camper who meets this criteria, please contact us at info@albinism.org for a family discount code.
---
Location, Transportation, & Accommodations
154 Lions Camp Pride Way
New Durham, NH 03855-6119
62 miles from Manchester Airport (MHT)
95 miles from Boston Logan International Airport (BOS )
For more information see (Camp Pride website)
Arrival & Departure Plans:
Please plan to arrive at camp on Saturday, July 15th any time after 2:00pm. Be sure to make arrangements for lunch before you arrive. The first meal of camp will be dinner, served at 6:00pm. July 16th, 17th, and 18th will be full days of camp activities. Camp ends Wednesday, July 19th, with breakfast as the final meal of camp served. Families should plan to depart by late Wednesday morning.
Accommodations:
Camp Pride has eight bunkhouses with one shared bathroom per building. A separate shower building provides additional bathing capacity. The bonds of friendship are reinforced through shared living space. Usually 10 campers share a bunkhouse furnished with bunk beds.
Cabin Assignments:
Camping crews will be assigned to a bunkhouse with their group. Each cabin will be supervised by adult overnight counselors.
---
Registration & Payment Info
Registration Deadline – May 15th
Pay Later Options :
By Check – must be mailed within 24 hours of registration and received within 1 week
Credit Card Installments – must be initiated within 24 hours. The first payment will be taken immediately, with subsequent payments one month apart. The final payment taken no later than June 30th.
Example: installment payments initiated May 13th will be taken on May 13th, June 13th and June 30th. The final installment will be taken no later than June 30th.
Refund Policy:
If you are unable to attend, please note the deadline for receipt of your written refund request. All refunds are subject to a 9% cancellation fee.
*Before May 15 ~ All fees refunded (less 9% cancellation fee)
*Before June 1 ~ 50% of fees refunded (less 9% cancellation fee)
*June 1 or later ~ No refunds
Registration is now closed, however limited space is still available. Contact info@albinism.org for more information.
---
Camp Leadership & Staff
Tricia Thomas ~ Camp Director
NOAH is excited to share that veteran NOAH camp staff, Tricia Thomas, will be returning as Camp Director this year. With the assistance of her son and trusty "assistant gopher," Drake, she'll be leading the charge for camp activities and fun as we reunite NOAH families in-person for the first time since 2019!
Tricia Thomas is a parent of a child with albinism who has been involved with NOAH for many years. She has an Associate in Science degree in Early Childhood Education, and is a Lead Teacher and Director II qualified to work with young children. Tricia has obtained diverse additional credits in Education, Special Needs, Visual Impairments, Parent Advocacy, and Literary Education. She has extensive experience working with children from infancy through the teenage years in school and extracurricular settings, and has served as the Early Childhood Literacy Teacher & Adult Program Coordinator for the Sandown Public Library since 2014.
Tricia has directed the Kids' Konference at the NOAH Biennial Conferences since 2014, and has been a part of NOAH Family Camp staff for the past several camps.
---
Maria Lepore-Stevens ~ Sports Director
NOAH is thrilled to announce that Maria Lepore-Stevens, director of Camp Abilities educational sports camps for athletes with visual impairments, will be returning as our Sports Director for NOAH Family Summer Camp. Maria's extensive experience teaching adapted physical education to youth with visual impairments makes her an incredible asset to our camp programming!
Maria Lepore-Stevens is dual certified as an orientation & mobility instructor and an adapted physical educator. Maria earned her Doctorate in Education from West Chester University focusing on the expanded core curriculum, and in particular on teaching self-determination skills to youth with visual impairments through summer camp programming She has worked as a COMS for the Delaware Division for the Visually Impaired and the Chester County Intermediate Unit in Pennsylvania, and currently works as a professor of adapted physical education at Rowan University. Maria spends her summers directing Camp Abilities educational sports camps for athletes with visual impairments in Delaware, Pennsylvania, and Arizona.
---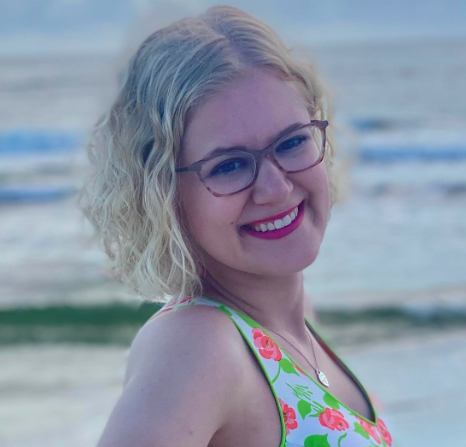 Casey Greer ~ Drama & Camp Games
Casey Greer is an adult with albinism from Memphis, TN. She earned her Bachelor of Fine Arts in Musical Theater from the University of Memphis. She is currently working as NOAH's Program Support Specialist, as well as working for the Hermansky-Pudlak Syndrome Network. She is currently in the process of receiving her Braille transcription certification from the Library of Congress. Casey loves reading, music, and playing with her dog, Rupert.
---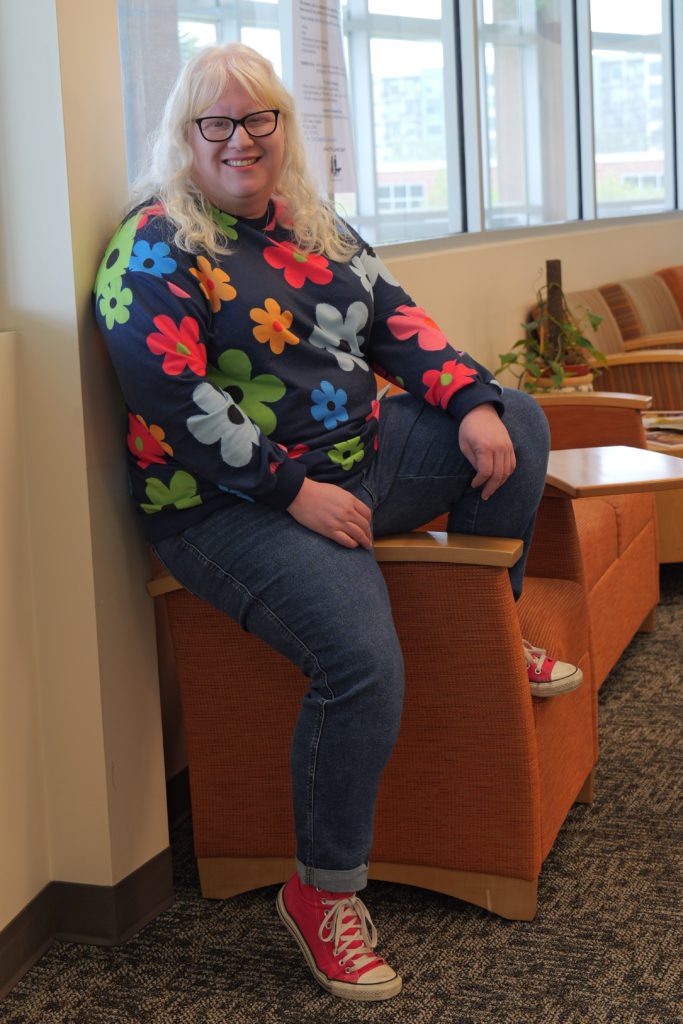 Kathi Garza ~ Parent Chats & Eye Education
Kathi Garza M.Ed received her bachelor's degree from Texas State University in 2004 for Interdisciplinary Studies and her master's degree from Texas Tech University in 2007 in Special Education with a focus on Visual Impairments. Kathi is a certified teacher of students with visual impairments and works as an Early Childhood Educational Consultant in the Outreach Department at the Texas School for the Blind and Visually Impaired (TSBVI). Before joining the Outreach team in 2019, Kathi taught in a classroom for students with visual impairments and complex access needs and in the Short-Term Programs department where she coordinated school year and summer programs for students in the state of Texas. In addition to her work with students, families, and professionals across the state, Kathi is passionate about her volunteer work for the National Organization for Albinism and Hypopigmentation (NOAH).
---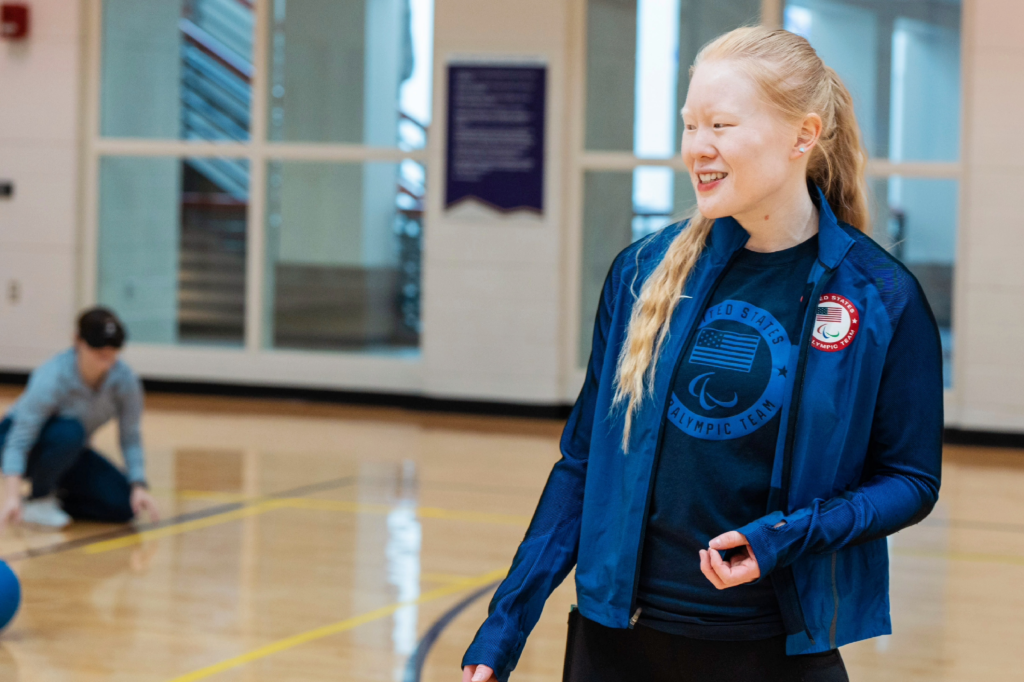 Marybai Huking ~ Goalball
Marybai Huking is a two-time Paralympic medalist in the sport of Goalball, and Sport Program Coordinator for the United States Association of Blind Athletes.
---
Protocols & Important Info
Protocols & important info for NOAH Family Camp 2023 are coming soon!
For your reference, NOAH Family Camp 2021 Protocols included the following:
We are so excited to see you for summer fun at NOAH Family Camp 2021. As you make plans for the summer, there are some details we would like to share with you regarding Family Camp at Lions Camp Pride. Prior to registering please take a moment to read through the following information to help understand the entire process.
We know Family Camp 2021 will look and feel a little different than in years past.
If you have questions or need guidance on the registration process, we are happy to answer any questions you may have. Please contact Lori @ info@albinism.org or 800 473-2310 (US and Canada)
All campers & staff must be able and willing to commit to:
COVID-19 Health Screening: Seven days prior to arrival at camp, each family will be required to complete and submit a questionnaire regarding possible COVID 19 exposure. An additional health screening will be performed upon arrival to camp.
COVID-19 Screening/Testing: All participating families will be required to take part in the COVID-19 screening and/or testing process. All participants will be required to show proof of COVID immunization completed prior to July 16, 2021 or a COVID test with negative results within five (5) days of July 30, 2021.
Family Camp Programming: NOAH is taking precautionary steps, recommended by the CDC and the State of New Hampshire and local jurisdictions, to minimize the risks associated with COVID 19 transmission. However, families should understand family camp is one big camper cohort. Campers, of all ages, will be participating in daily activities and will share overnight cabins.
Youth campers will be cohorted in small Camping Crews for small group daily activities.
Parents and caregivers will NOT be able to leave camp property during the week and will be asked to assist in camp activities if and when needed.
Make sure to discuss with all the participating members of your family so everyone understands how campers will be organized.
CDC Guidelines and Protocols: All current CDC guidelines will be implemented and enforced throughout the duration of the program. This will include a willingness to practice social distancing, wearing face coverings, and participating in smaller gatherings within your groups. Current CDC Guidelines and Signage will be posted as reminders for social distancing, hand-washing, sanitizing, etc.
Outdoor Activities: Summer is a beautiful time in New Hampshire! We will be utilizing the great outdoors as much as safely possible for our programming needs. Things like meals, arts and crafts, or games may be set up outdoors. Designated areas/tables will be identified for use groups to use throughout camp. Allergies can flare during the summer and camp has many large grassy areas so understanding that activities will be outside as much as possible could be a factor to consider.
Wash your hands: Hand-washing and/or sanitizing will be expected at the beginning and end of each program.
Sanitizing: All activity locations and group changes will include a sanitizing and cleaning component. All equipment or reusable materials will either:

Be given to participants pre-packaged. Materials will be assembled for use by staff utilizing safety measures recommended by the CDC.
Be sanitized at the conclusion of a program in preparation for next user group.
Social Distancing: NOAH encourages safe social distancing as advised by the CDC.
Mask Up: We are following CDC recommendations. All campers and staff are encouraged to wear a mask when appropriate.
Limit Visits: Please limit entrance into any sleeping cabins but your own.
---
Questions? Send us a message at info@albinism.org!