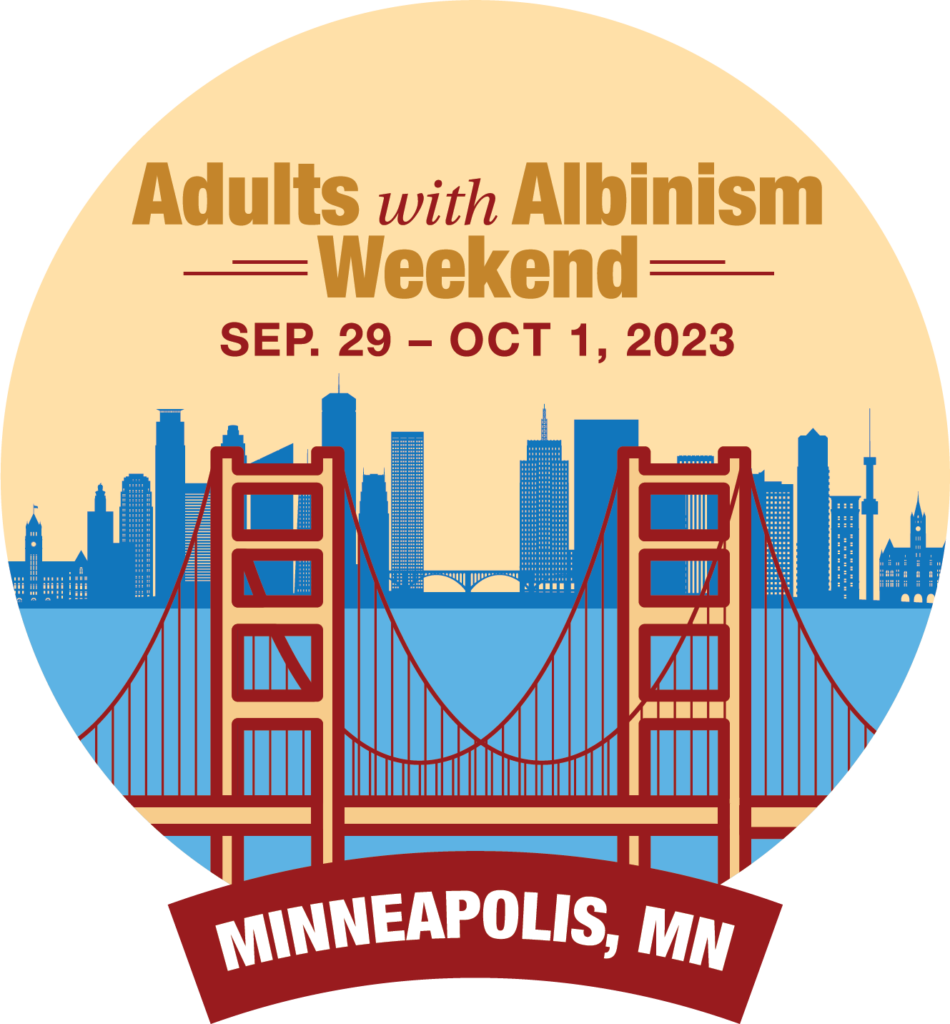 We are excited to announce that Adult Weekend will be held from September 29 – October 1, 2023 in Minneapolis, MN!
We anticipate that registration for Adult Weekend 2023 will open in early June. Stay tuned for more details coming soon!
What is Adult Weekend?
When adults with albinism gather, something magical happens. Differences in cultures, ethnicities, age, and more fade, and similarities of experiences take center stage. Friendships are forged and lives changed. Adult weekends are an opportunity for adults with albinism to gather together as a small group and enjoy time with each other. For some, these weekends are a much anticipated chance to see old friends and for first-timers, an opportunity to meet new people and begin building those lifelong friendships for which the entire NOAH community is known.
A Walk Down Memory Lane
Take a look back at some fun times shared at previous adult weekends!
The information below is from Adult Weekend 2021 in Memphis, TN. If you're not familiar, take a look below to see what Adult Weekend has been like in the past, and stay tuned for more details about Adult Weekend 2023!
---
Come enjoy some Memphis favorites like Friday night BBQ, Saturday museum tours to connect you with the rich history and musical culture of this iconic city, educational sessions that will support community building and day-to-day life hacks. Don't forget to pack your energy and dancing shoes to roam through Beale Street, a Memphis hotspot with restaurants, live music, and shopping!
---
Activities
---
Lodging
NOAH has secured a special group lodging rate for Adult Weekend 2021 participants at the Holiday Inn Memphis – Downtown (Beale St.). Staying at the Adult Weekend hotel is an important part of the Adult Weekend social experience. The Holiday Inn has great spaces for hanging out informally when formal activities aren't scheduled, so be sure to enjoy the FULL experience and stay at the Holiday Inn! As a bonus, attendees staying at the Holiday Inn receive a $30 registration fee discount!
Single/double occupancy rooms – $109/night plus tax
*Hotel Amenities Update (9/9/21): The hotel shuttle is not currently available. Additional transportation options include public transportation, rideshare, and taxi. The restaurant is currently open only for breakfast, but hotel staff anticipate that it will be open for dinner and bar by the beginning of October. Laundry service is not presently available, and housekeeping services are limited – any needs must be made upon request.
**Group rates are available 3 days prior to or following Adult Weekend dates, on a space available basis. If you are unable to reserve your room for the desired additional nights, please email info@albinism.org with your confirmation # and the additional nights requested, and NOAH will submit to the hotel to confirm availability.
---
Registration Fees
*Attendees lodging onsite ~ $90
*Attendees lodging offsite ~ $120
Registration fee includes: museum passes, educational sessions, Friday dinner, & Sunday breakfast!
Refund Policy:
If you are unable to attend, please note the deadline for receipt of your written refund request. All refunds are subject to a 9% cancellation fee.

*Before August 31 ~ All fees refunded (less 9% cancellation fee)
*Before September 10th ~ 50% of fees refunded (less 9% cancellation fee)
*September 10th or later ~ No refunds
Registration is now closed. See you in Memphis!!
---
COVID-19 Protocols
We are so excited to see you for Adult Weekend fun this fall! NOAH will make every effort to provide a safe, enjoyable Adult Weekend experience. The following COVID-19 protocols are planned:
COVID-19 Health Screening: Seven days prior to arrival at Adult Weekend, participants will be required to complete and submit a questionnaire regarding possible COVID 19 exposure. An additional health screening will be performed upon arrival to Adult Weekend.
COVID-19 Screening/Testing: All participants will be required to take part in the COVID-19 screening and/or testing process.
For the most updated information on Shelby County, TN Health Directives, visit: https://insight-editor.livestories.com/s/v2/2.3-health-directives/d4a0c7d0-e5b5-4845-8b9b-99b7ed311f70?
If you have questions or need guidance on the registration process, we are happy to answer any questions you may have. Please contact Lori @ info@albinism.org or 800 473-2310 (US and Canada)
---
Tentative Schedule
Friday
5:00 – 6:30 PM
Meet-n-Greet
7:00 PM
Dinner at The Pig on Beale (included)
Saturday
9:00 AM – 10:00 AM
Educational Sessions
10:30 AM – 12:30 PM
Civil Rights Museum (included)
12:30 – 2:00 PM
Lunch on your own
2:00 – 4:30 PM
Rock 'n Soul & Memphis Hall of Fame (included)
5:00 PM
Educational Sessions
6:30 PM
Dinner on your own on Beale St
Sunday
8:30 – 10:00 AM
Breakfast Buffet (included)
10:00 – 11:00 AM
Closing Session
---