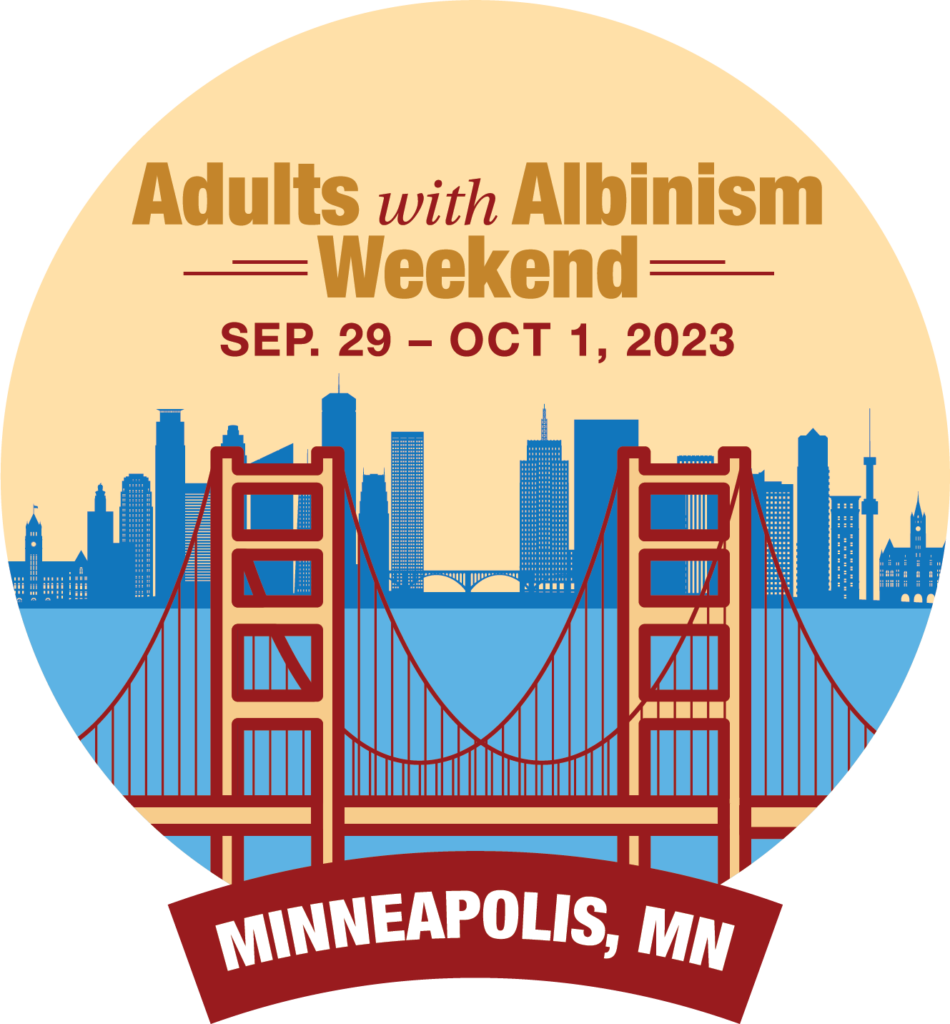 Adult Weekend will be held from September 29 – October 1, 2023 in Minneapolis, MN! Registration is now open, so don't wait – register today!
What is Adult Weekend?
When adults with albinism gather, something magical happens. Differences in cultures, ethnicities, age, and more fade, and similarities of experiences take center stage. Friendships are forged and lives changed. Adult weekends are an opportunity for adults with albinism to gather together as a small group and enjoy time with each other. For some, these weekends are a much anticipated chance to see old friends and for first-timers, an opportunity to meet new people and begin building those lifelong friendships for which the entire NOAH community is known.
A Walk Down Memory Lane
Take a look back at some fun times shared at previous adult weekends!
---
Join adult PWAs in Minneapolis for a weekend of fellowship, support, and fun September 29th through October 1st, 2023. Registration will include dinner at Cowboy Jack's on Friday night, Black Light Mini Golf at Mall of America, transportation to Mall of America, and educational sessions, including grab bag round table discussions and life hacks. Attendees electing to stay at the event hotel will receive a $30 discount on the event registration fee. We strongly encourage all participants to stay at the Embassy Suites Minneapolis Downtown.
---
Activities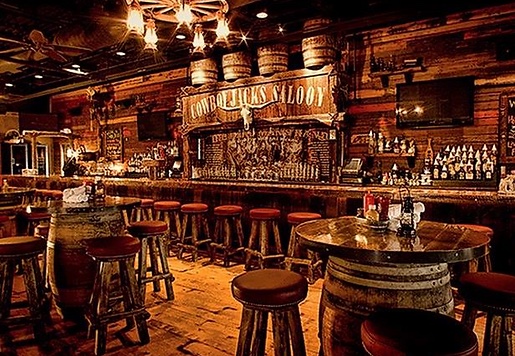 Dinner at Cowboy Jack's
Educational Sessions
Mall of America® 

We'll take the afternoon to visit the nation's LARGEST entertainment and retail complex – the MALL OF AMERICA ®. Mall of America is the largest mall in the US and features countless attractions (listed here) including a roller coaster, escape room, museums, more than 520 stores, and more! 
Boasting 5.6 MILLION SQUARE FEET of retail and entertainment options!!  With MORE THAN 520 world-class shops, specialty retail and attractions, you'll be sure to find something to make the most out of your trip to Minnesota!!
Home of Nickelodeon Universe® , the nation's largest indoor theme park with 27 THRILLING RIDES + ATTRACTIONS for guests of all ages 
SEA LIFE® Minnesota Aquarium is a 1.3 MILLION gallon underwater experience with a 300-foot ocean tunnel featuring 10,000 sea creatures
The LEGO® Store features a 34-FOOT-TALL LEGO ROBOT and a wall with 180 varieties of LEGO pieces 
FlyOver America is a fully immersive, flight simulation ride that uses virtual flight technology to take guests through an AERIAL TOUR OF THE UNITED STATES
From sweets and treats to full-service restaurants, the Mall of America has plenty of dining options for everyone!
Included with Adult Weekend Registration – One round at ROCK OF AGES BLACKLIGHT MINI GOLF 
Find some NOAH friends and putt your way through different eras of music, starting in the '50s all the way up to present time. There are 18 holes of fun-filled golf, sure to challenge and delight guests of all ages. *Please note that this indoor environment is primarily illuminated with black lights. Please plan accordingly.*

Closing Session
---
Lodging
Embassy Suites by Hilton Minneapolis Downtown
12 Sixth Street South
Minneapolis, MN 55402
+1 612-351-2554
NOAH 2023 Adult Week Room Block
NOAH has secured a special group lodging rate for Adult Weekend 2023 participants at the Embassy Suites by Hilton Minneapolis Downtown. Staying at the Adult Weekend hotel is an important part of the Adult Weekend social experience. Embassy Suites by Hilton has great spaces for hanging out informally when formal activities aren't scheduled, so be sure to enjoy the FULL experience and stay at the Embassy Suites by Hilton! As a bonus, attendees staying at the Adult Weekend hotel receive a $30 registration fee discount!
Single/double occupancy rooms – $149/night plus tax
Also included in your booking is a complimentary Breakfast with made-to-order omelets, complimentary evening cocktail hour (2 drinks per person), free Wi-Fi, access to a fitness center and more!
Book by September 8th!
**Group rates are available 2 days prior to or 3 days following Adult Weekend dates, on a space available basis. Please use the Adult Weekend Room Block link above for all bookings!
Looking to Share a Room at Adult Weekend?
If you're interested in sharing a room to make Adult Weekend more affordable, email info@albinism.org to be placed on the room share contact list!
NOAH will facilitate introductions between individuals on the list (but is not providing roommate matching services).
---
Registration Fees
On-Site Lodging Registration Fee: $75.00
Available through 9/8/23 – must be lodging at the Embassy Suites Minneapolis Downtown to qualify. (Guests reserve and pay for lodging directly with Embassy Suites)
Off-Site Lodging Registration Fee: $105.00
Available through 9/8/23 – attendees not staying at the event hotel should register in this Off-Site Lodging registration category.
Refund Policy:
If you are unable to attend, please note the deadline for receipt of your written refund request. All refunds are subject to a 9% cancellation fee.
*Before August 1st ~ All fees refunded (less 9% cancellation fee)
*August 1st through August 31st ~ 50% of fees refunded (less 9% cancellation fee)
*September 1st or later ~ No refunds
---
Health Safety Code of Conduct
We are so excited to see you for Adult Weekend fun this fall! NOAH will make every effort to provide a safe, enjoyable Adult Weekend experience. By registering to attend Adult Weekend, you are agreeing to the following Health Safety Code of Conduct:
Before the Event
I will evaluate my own health as well as that of the people I am in close contact with and contact NOAH if I have any concerns. I will stay home if I feel sick.
During the Event
I will follow all guidelines provided by NOAH and/or the Embassy Suites by Hilton and other Adult Weekend activity locations. I will engage in everyday preventative actions including washing hands often with soap and water for at least 20 seconds and/or washing hands often with an alcohol-based sanitizer with at least 60% alcohol; avoiding touching eyes, nose, and mouth with unwashed hands; covering my nose and mouth when coughing or sneezing; and throwing used tissues in the trash.
I agree to adhere to appropriate health safety measures/protocols that may be put in place by NOAH at the time of the event. These measures will meet or exceed CDC/World Health recommendations and align with the level of community transmission at the time of the event. Protocols may include having my temperature taken before entering the event venue, showing proof of vaccination, and wearing a mask or facial covering. I agree to respect the personal space and boundaries of other attendees, staff, and guests. If at any time I begin to feel unwell or experience any of the symptoms listed below, I will quarantine to my room and contact NOAH for further instructions.
Concerning Health Symptoms:
Fever or Chills
Cough
Shortness of breath
Fatigue
Muscle or body aches
Headache
Recent loss of taste/smell
Sore throat
Congestion
Nausea or vomiting
Diarrhea symptoms
After the Event
I will contact NOAH if I test positive for COVID-19 in the 10 days following the event.
In the event I do not comply with Health Safety Code of Conduct, I understand that my continued participation at the NOAH events be at the discretion of NOAH.
---
Tentative Schedule
Friday
5:30-6:30 PM
Meet and Greet
7:00 PM
Dinner at Cowboy Jack's – Downtown Minneapolis
(walking distance from hotel – meal included with Adult Weekend Registration)
Saturday
7:30-8:45 AM
Breakfast
(Complimentary for Embassy Suites Minneapolis Downtown overnight hotel guests, cooked-to-order)
9:00-11:00 AM
Educational Sessions
11:15 AM
Meet in hotel lobby to depart for Mall of America®
(light rail fare included with Adult Weekend Registration)
12:00-5:00 PM
Mall of America® – https://mallofamerica.com/
We'll take the afternoon to visit the nation's LARGEST entertainment and retail complex – the MALL OF AMERICA ®  .
Included with Adult Weekend Registration – One round at ROCK OF AGES BLACKLIGHT MINI GOLF 
6:00 PM
Dinner and socializing on your own
(Return transportation to the hotel will be organized by NOAH, included with Adult Weekend Registration)
Sunday
7:30-9:30 AM
Breakfast
(Complimentary for Embassy Suites Minneapolis Downtown overnight hotel guests, cooked-to-order)
9:45-10:45 AM
Closing Session
11:00 AM
Hotel checkout
---