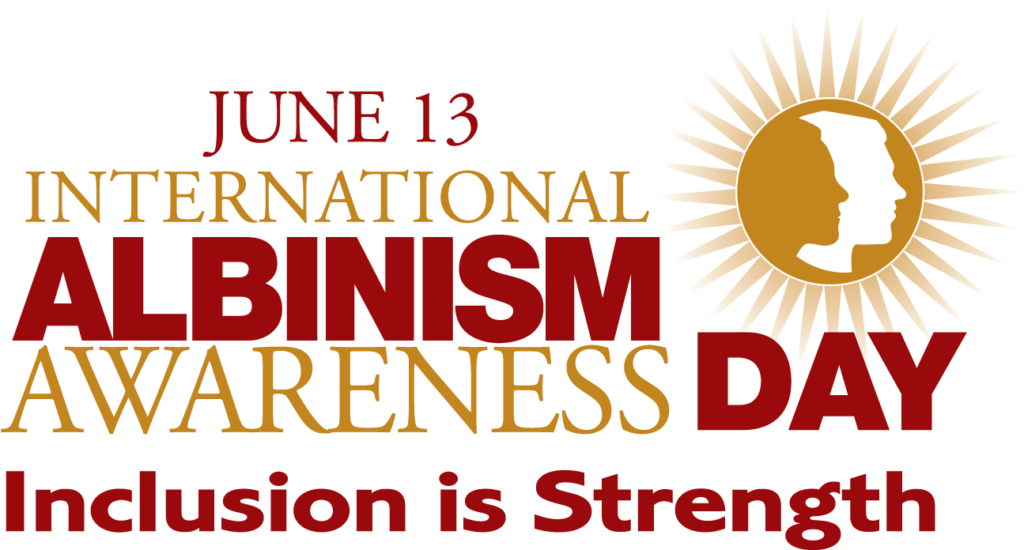 IAAD 2023!
Announcing this year's theme: #InclusionIsStrength
INCLUSION IS STRENGTH
The theme builds on from last years' theme of ensuring the inclusion of the voices of persons with albinism in all sectors of life. It emphasizes the importance of inclusion of a diversity of groups from both within and outside the albinism community. Specifically, it highlights the importance and benefits of:
Including a broad spectrum of persons with albinism in albinism-related discussions, including youth, women, children, older persons, LGBTQ+ and persons with albinism of all races and ethnic backgrounds;
Collaborating and embracing albinism within the disability movement, and in other sectors where decisions affect persons with albinism; and
Seeking synergies with human rights groups and other groups from outside the albinism movement.
#InclusionIsStrength
#InclusiveFuture
#AlbinismDay
There are many ways to get involved, spread awareness, and make YOUR voice heard on International Albinism Awareness Day!
---
---
History of International Albinism Awareness Day
On December 18, 2014, the United Nations' General Assembly adopted a resolution establishing June 13th as International Albinism Awareness Day. This historic resolution confirmed the global focus on albinism advocacy. NOAH joins with the worldwide albinism community in encouraging everyone to celebrate and promote albinism awareness on June 13th each year.
The late Ambassador of the Mission of Somalia to the U.N., Geneva, Yusuf Mohamed Ismail Bari-Bari, led the effort to pass the resolution in cooperation with Under the Same Sun, an organization that promotes and protects the rights of people with albinism, particularly in Africa. Shortly thereafter, NOAH participated in a U.N. "side event" to celebrate the adoption of the resolution. The late Excellency Bari-Bari made opening and closing remarks at the event, which included sharing a story with Pope Francis in which he informed the Pontiff of the atrocities committed against people with albinism in Africa. Many other dignitaries also attended the event, and each made brief statements in support of the resolution. These attendees included representatives from the U.N. delegations from Italy, Israel, Canada and the United States, the U.N. Special Representative on Violence against Children, a representative from UNICEF, and several key individuals in the albinism community.
---
Learn More About IAAD & Albinism
To learn more about International Albinism Awareness Day, check out these online resources:
International Albinism Awareness Day Facebook Page
International Albinism Awareness Day
History of International Albinism Awareness Day
Meet the Champions of the Albinism Cause: (United Nations Human Rights' Albinism website)
Video Poem by Gcina Vabaza (Viewer Advisory: This video contains serious content intended for mature audiences. Graphic images included may not be suitable for young viewers.)
---
IAAD Events!
Planning an event for IAAD? Let us know! Email info@albinism.org with all the details so we can help spread the word.
---
Share on Social Media!
Looking for a simple way to spread the word about IAAD to your friends and family on social media? Click any image to view it fullscreen, then right click to download to your device for easy sharing!
---
Questions? Contact Us!
Email: IAAD@albinism.org
Don't forget to check out – and follow! – NOAH on Facebook, YouTube, Twitter and Instagram!