NOAH's Career Corner is a new opportunity for adult PWAs to connect with and inspire others in the albinism community by sharing their career or job experiences. If you are an adult PWA willing to share about your career, please fill out this form: https://app.donorview.com/pExwA
Career Corner Spotlights!
More career corner spotlights will be added regularly, so check back soon for new additions!
---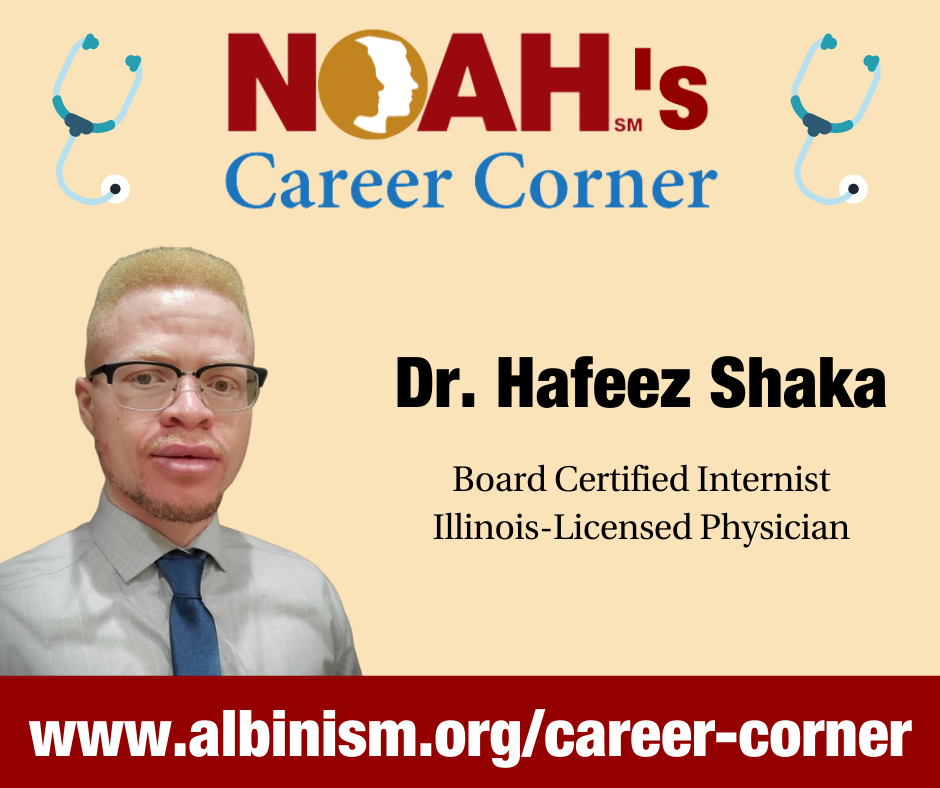 Dr. Hafeez Shaka
Board Certified Internist & Illinois-Licensed Physician
"I am a Board Certified Internist and Illinois-licensed physician. I was born and raised in Nigeria, where I completed medical school in 2015. I had post-graduate medical training in Internal Medicine at John H Stroger Jr Hospital of Cook County, Chicago, IL. I am currently a chief resident at the same hospital. I have been in the US since June 2018."
---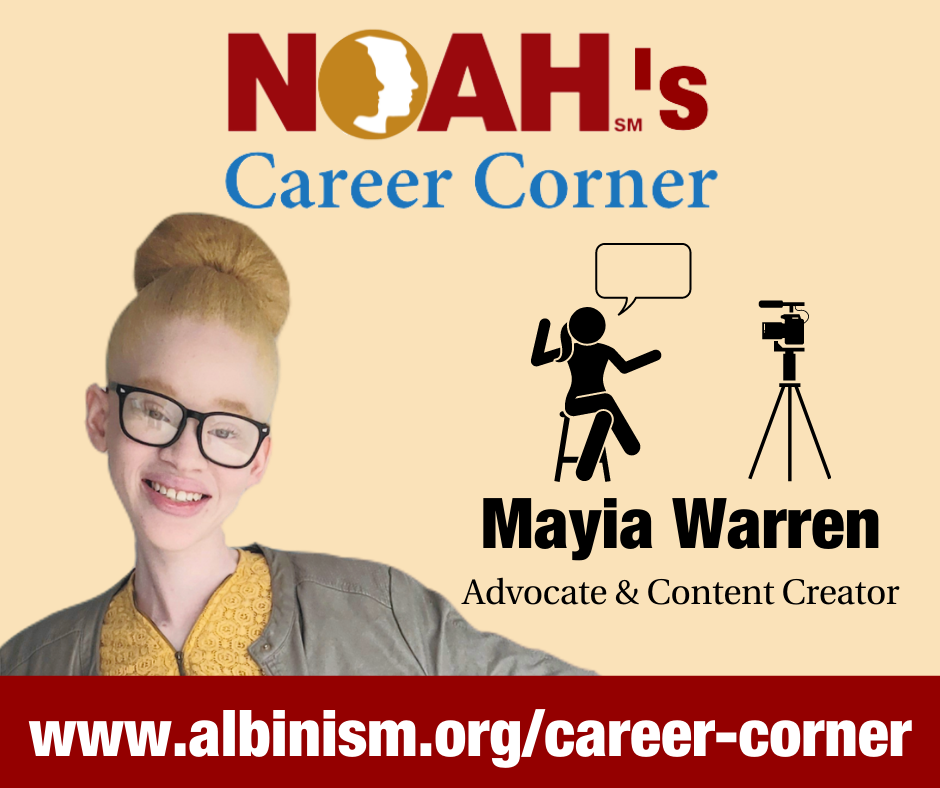 Mayia Warren
Advocate & Content Creator
For the past 11 years, Mayia has used her voice to advocate for Albinism. She has presented her cause before school board officials, educators, program directors, organizations, and more. The entirety of the content she produces serves to engage audiences in Albinism, Invisible Chronic illness, and Disability advocacy and awareness. Essentially this means taking her life experiences as an advocate, her education, and communication skills into collaborative efforts, on and offline. The goal is and has always been to impact people who live with these various circumstances while educating those who may not have such life experiences with Albinism, illness, and disability. This often entails partnering with organizations, building meaningful relationships, and creating strategies for change.
---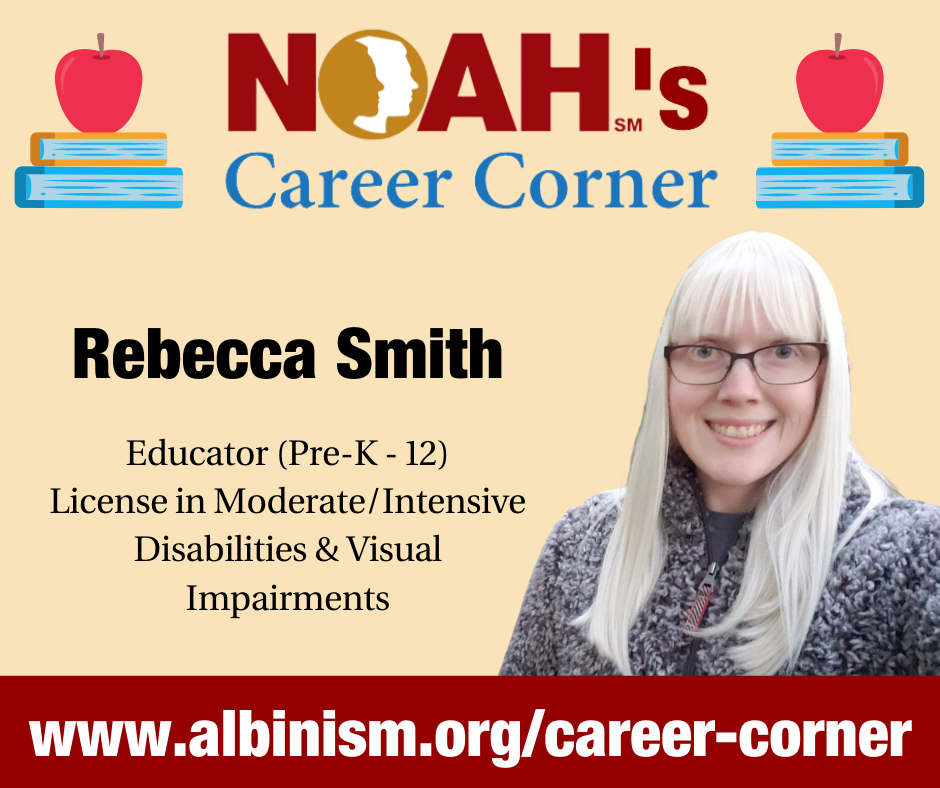 Rebecca Smith
Educator (Pre-K – 12)
"I am an educator. I have a license in Moderate/Intensive Disabilities as well as Visual Impairments. I have worked with students in Preschool all the way to 12th grade. I love working with students with a variety of skills and a variety of needs. I have students who communicate in many different ways and it's always eye opening to see them make progress."
---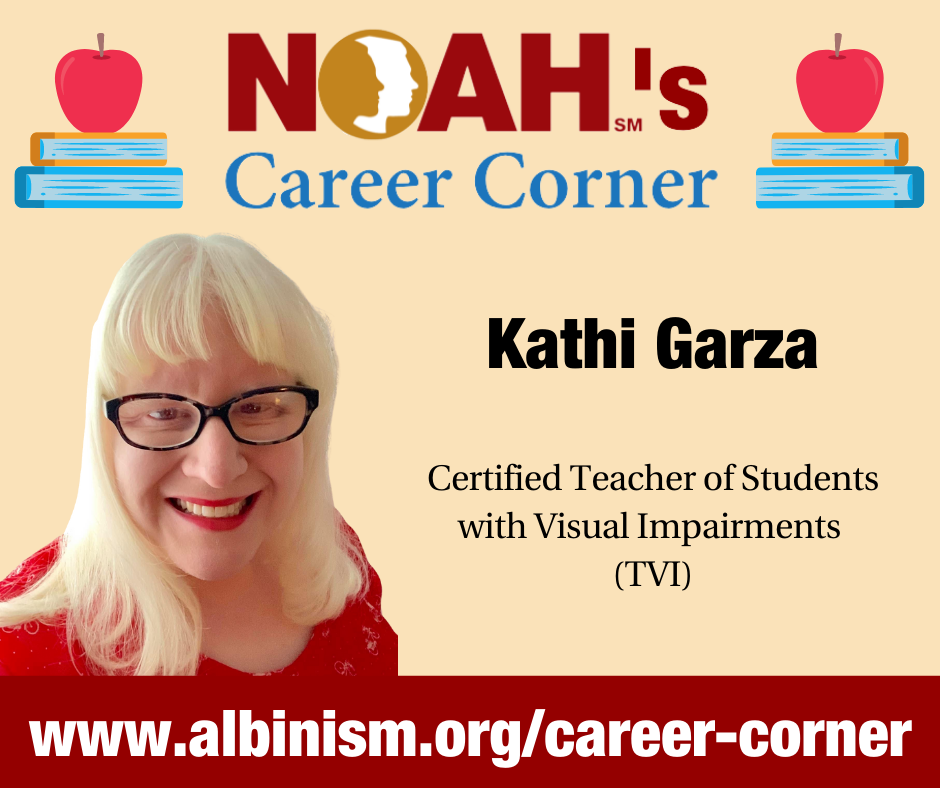 Kathi Garza
Certified Teacher of Students with Visual Impairments (TVI)
"My name is Kathi, and I'm a certified Teacher of Students with Visual Impairments (TVI). I've had experience as a classroom teacher in my field, but I'm currently working as a statewide consultant for professionals and families who support children with visual impairments. My focus is with early childhood."
---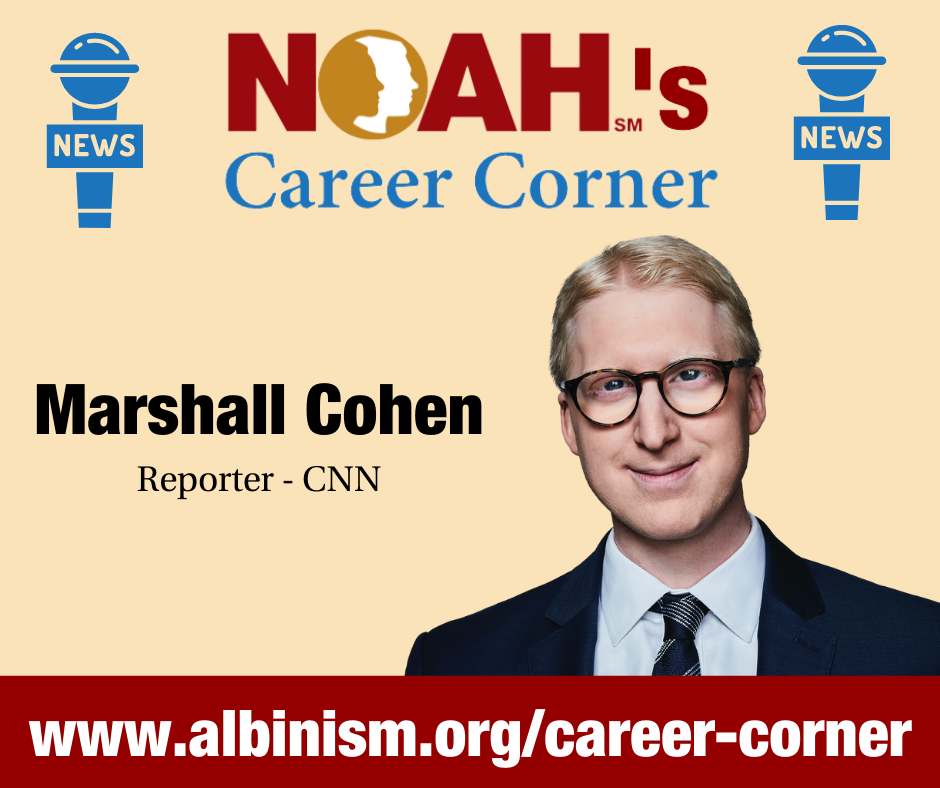 Marshall Cohen
Reporter
Marshall Cohen is a reporter at CNN. He has covered many of the biggest political stories in the last few years, including the January 6 insurrection, the fight over voting rights in 2020, the Mueller investigation, Donald Trump's two impeachments, and more. He writes for CNN's website and occasionally appears on-air on the weekends. He has been at CNN since 2015. He grew up in the Philadelphia area and lives in Washington, DC.
---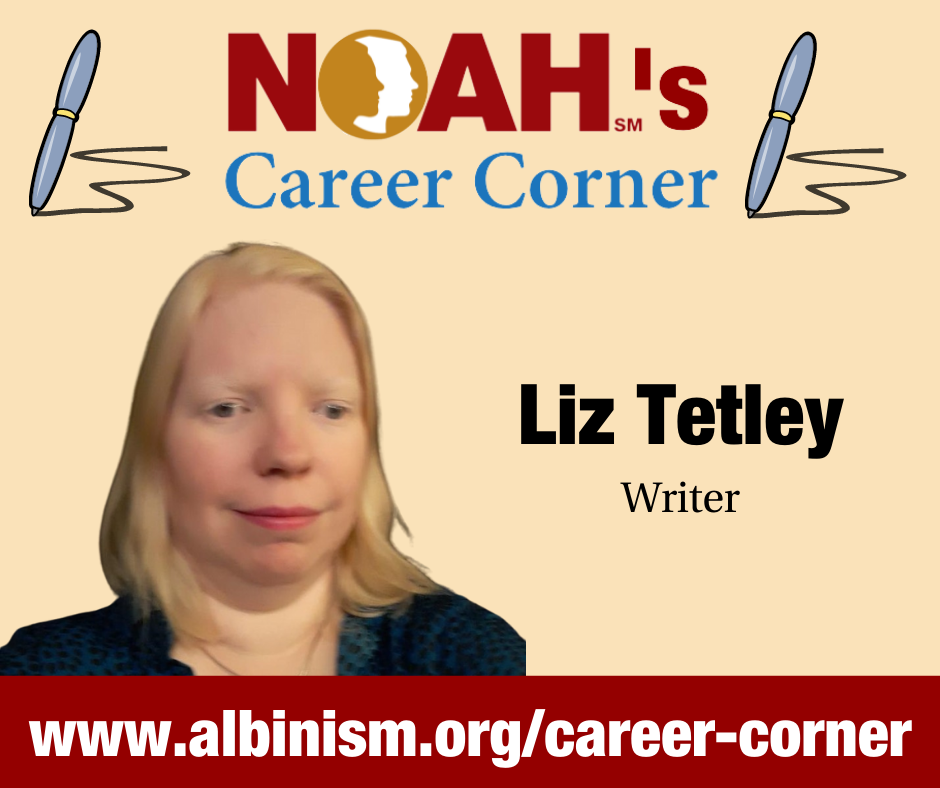 Liz Tetley
Writer
"Since graduating in 2000 with a B.A. in English and minors in Professional Writing and Psychology, I have done various things, some as a volunteer. I stuffed newsletters and wrote a few business letters. I have created cards and flyers. I have written and edited blog posts, social media posts, newsletter articles, press releases, and other copy for non-profit organizations, fundraisers, and support groups. I have had articles, devotionals, a recipe, a math game, and children's stories published in print and digital magazines. I'm a medical transcriptionist and am currently developing content for 2 blogs." – Liz
---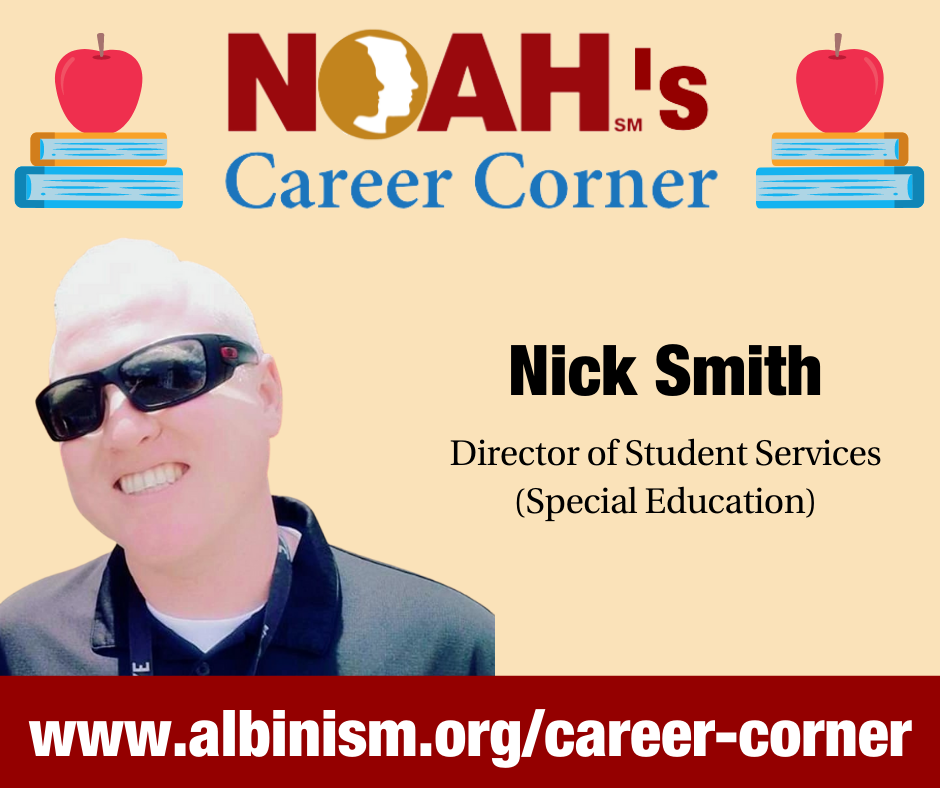 Nick Smith
Director of Student Services (Special Education)
"My name is Nick Smith and I am currently a Director of Student Services (Special Education) in a medium sized city school district in northern Ohio. I've been an educator since 2016 as a Nationally Certified School Psychologist. I have my bachelor's in Psychology and Child Development and an Educational Specialist Degree in School Psychology. I've traveled and presented all over the country and am skilled in crisis response, counseling, assessments and educational law. I look forward with connecting with anyone interested in education."
---
Jocelyn Leworthy
Certified Child Life Specialist
"In my career I wear many hats as I hold a number of professional roles in my community as a professional. First and foremost I am a Certified Child Life Specialist (CCLS), I work in the community at a non-profit supporting children impacted by Cancer. This past year I have been honoured to be the recipient of the "40 under 40 in Cancer" award for my innovation and leadership in the work that I do with children. Aside from my role in community Oncology also lead support groups at another local non-profit for children who are grieving the death of an immediate family member. Additionally I am an Educator, both at the elementary level as an Early Childhood Educator in the Ontario Full Day Kindergarten program on an occasional basis while also serving as a Faculty within the Early Childhood Education program at Georgian College. My undergraduate BASc is in Early Childhood Studies and I also hold a Master of Science in Child Life and Paediatric Psychosocial Care. As a CCLS I am trained to provide developmentally responsive psychosocial care and support to children, youth, and families who are coping with potentially challenging life experiences. In my practice I utilize play based and other creative/expressive interventions to facilitate education (about a diagnosis or something going on in their life), for psychological preparation for experiences (ex medical procedures, funerals etc) , I also use fun games, activities, and stories to help children/youth learn coping skills, express themselves/their emotions. I have also been striving to advocate for more psychosocial support for children with Albinism and have been making it my mission to use my personal experience as a PWA and my professional expertise to offer specific programming through NOAH."
---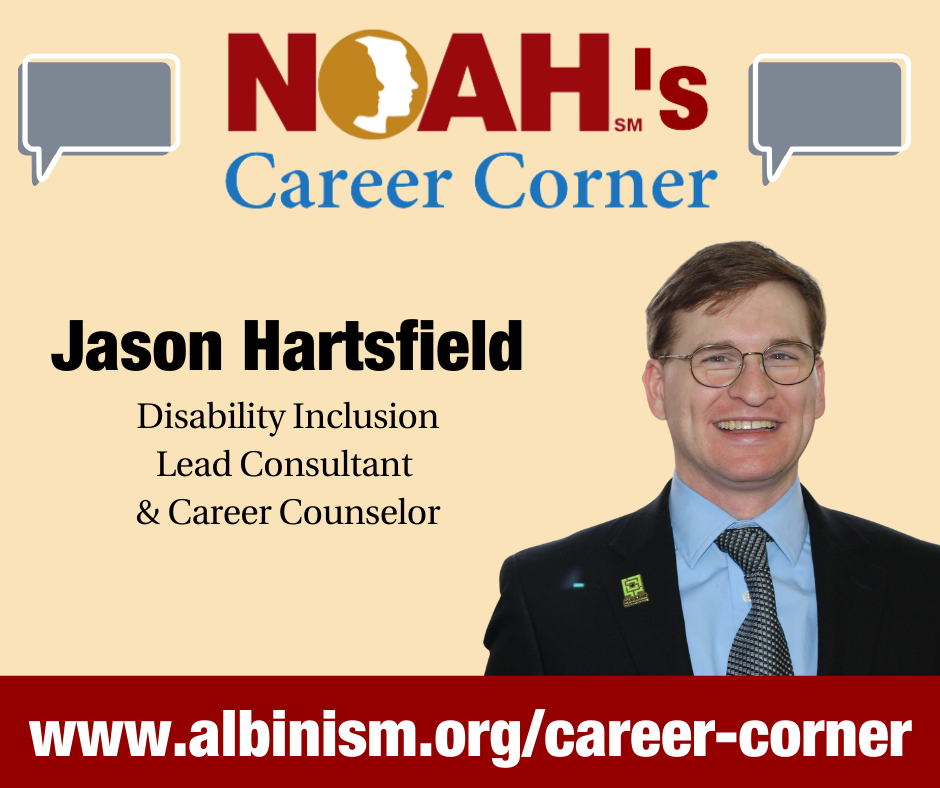 Jason Hartsfield
Disability Inclusion Lead Consultant & Career Counselor
Jason Hartsfield is a career advisor, social worker, and disability advocate. Jason has a Bachelor's Degree in History from the University of Arkansas and a Master's Degree in Social Work from the George Warren Brown School of Social Work at Washington University.
Jason has made improving the lives of people with disabilities his mission throughout his career. As someone living with both a visual impairment and a chronic mental health condition, Jason knows first-hand the challenges facing people with disabilities living in an able-bodied world. Dedicated to the inclusion of people with disabilities in the workplace and wider community, Jason's expertise includes adult education, professional development, accessibility, and best practices for hiring and retaining employees with disabilities.
As the Disability Inclusion Lead Consultant and Career Advisor with Starkloff Disability Institute, Jason divides his time between teaching career advancement courses to job seekers with disabilities, providing one-on-one career consultation, and delivering workshops on disability inclusion in the workplace to Starkloff's community and corporate partners including Ameren Corporation, the Missouri Rehabilitation Association, Centene Corporation, Nestle Purina Petcare, Permobil Seating and Positioning, Wells Fargo, and the Society for Human Resource Managers. Jason developed and led workshops accredited by SHRM that attracted more than 1000+ attendees throughout National Disability Employment Awareness Month during the pandemic in 2020, ensuring diversity and inclusion professionals had to knowledge to leverage their roles during a time of crisis.
Jason serves as a co-chair for the Gateway Employment Nexus and is an active member of the St. Louis Diversity and Inclusion Consortium and the St. Louis Regional Coalition for Digital Equity and Inclusion.
---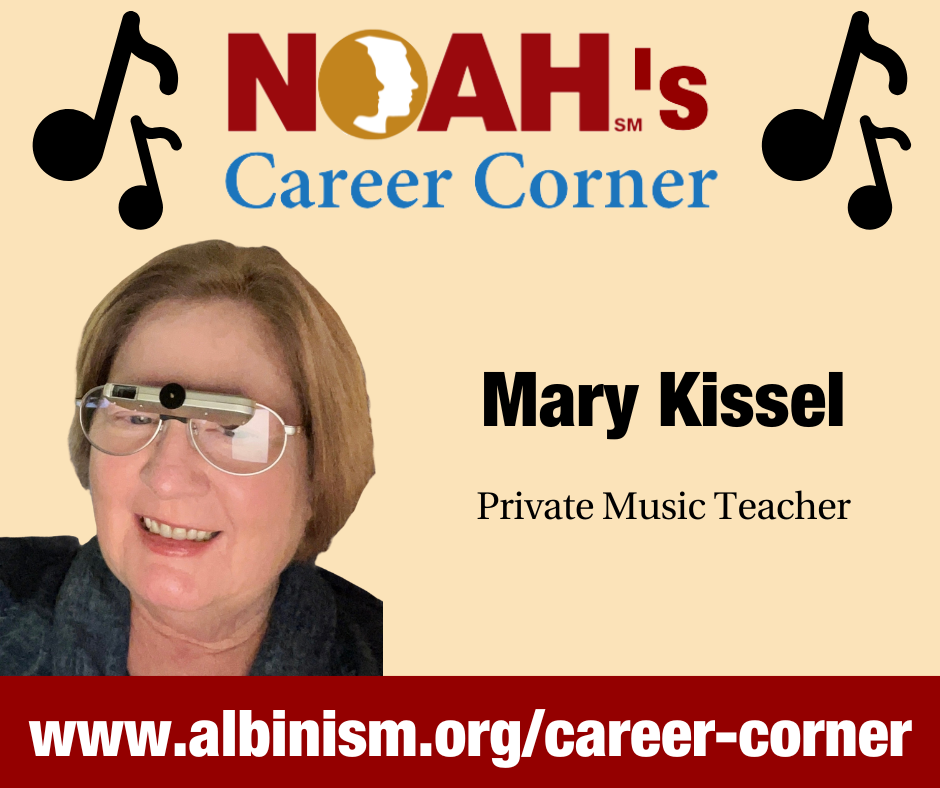 Mary Kissel
Private Music Teacher
"I'm a private music teacher. I've had a studio for over 30 years. I have taught in my home. the last two years of the pandemic I have been teaching virtually. I the most exciting thing that happened to me during my career was that after years of playing by ear, memorizing music, and or holding the music close to my face or using a magnifier, I am now able to read music at a normal position. I'm using falcon auto focus bioptics. This allows me to do this for the first time in my life! So I tell others I am now a piano teacher who is learning to play the piano! I have used telescopes for many years since 1981. First for jobs, and then later for bioptic driving. Now I also use them for playing the piano and other instruments. A teacher more than a performer. Years ago in California around 1989 I went to one of the first NOAH conferences with my low vision doctor to speak about bioptic driving!… I have OA and do not look like a person with albinism…"
---